Key Facts
FLASR was founded in 2012 as a first-of-its-kind tobacco accessory producer targeting moist snuff users in the U.S.
FLASR's goal is to meet a currently unsatisfied need as a disposal solution for moist snuff users.
Multiple distribution centers throughout the U.S. handle distribution and shipping for FLASR products.
FLASR's business offices are located in Atlanta, Georgia.
Moist tobacco is a rapidly growing industry with a wide variety of products from which to choose.
FLASR's immediate goal is to become the primary accessory for moist snuff users.
We will continue to build the brand through an aggressive marketing strategy and extended product lines.
Company Highlights

FLASR was introduced March 6-7, 2013 at the Southeast Petro-Food Marketing Exposition. With more than 400 companies exhibiting products and approximately 1,500 buyers in attendance, it is the largest regional petroleum and convenience store trade show in the nation. FLASR creates a tangible market for an otherwise widely ignored consumer base, and is establishing its portable spittoon as the accessory of choice for discreet and professional moist tobacco use.
FLASR serves the untapped market for moist tobacco users as an alternative to traditional spittoons. The product allows for more discreet and convenient disposal of moist tobacco by-product in the form of a flask. Considering the breadth of the moist tobacco product industry, users should have easy access to disposal accessories. In the short-term, we aim to become the primary brand moist tobacco users consume. By extending our product line and building the brand through an aggressive marketing strategy, we aim to become the primary disposal accessory in this rapidly growing industry.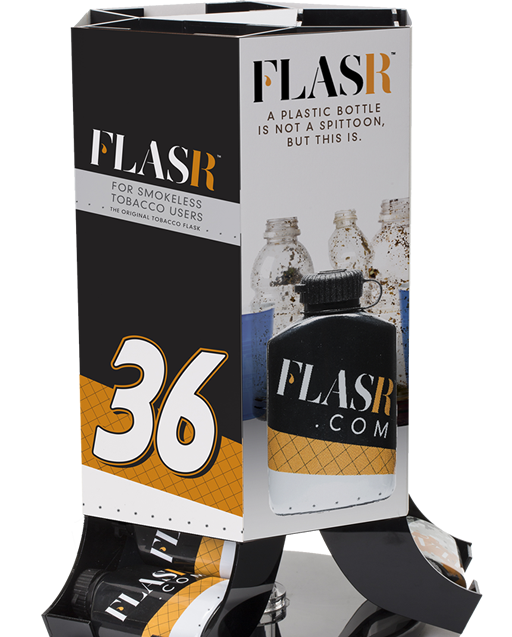 Given that recent statistics indicate 7 percent of the U.S. population are moist tobacco users, the need for FLASR is clear. A moist tobacco user will purchase a FLASR, just as tobacco smokers purchase new lighters when they purchase new cigarettes. FLASR creates a convenient, discreet, easy to operate, spill-proof method to dispose of snuff by-product.
FLASR is a personal, portable spittoon. Its unobtrusive design is easy to conceal in a pocket or on their person, and discreet enough to use in public without unwanted attention. We aim to design variations of the product to give consumers a greater choice of design options in effort to personalize this accessory. We will showcase brands and logos of sports teams, hobbies, interests and more to help meet their lifestyle needs.
FLASR is the only product on the market that takes into consideration a convenient and prudent, portable unit for moist tobacco users. Extensive R&D was conducted to ensure its thoughtful design, ensuring that aspects like the cap would be easy to use, but also contained a dependable locking mechanism to prevent any accidental opening or spillage.
FLASR is made of polyethylene (HDPE), a recyclable material known for its high impact strength and its relative rigidity. It's used in many familiar products, such as — food containers, car interior parts and drink cups. While FLASR is reusable, it does a limited life span.
Distribution
Flasr™ is available in 400 stores across 10 states, with an expanding distribution network designed to better serve our consumers. With industry growth pushing moist tobacco to a more mainstream habitual habit, the need for our discreet, considerate and convenient product fulfills users' needs.
At FLASR, we realize it is essential to provide customers with products and services they need, when they need them. Therefore, we seek only the most reliable and efficient distribution partners in our network.
FLASR's distribution strategy is to utilize larger distributors to supply the product to several national chain stores and direct to retailers.
FLASR's primary distribution market is convenient stores, followed by sporting goods distributors, auto parts retailers and other specialty stores. Online buyers can find FLASR on e-commerce websites including Amazon.com and others.